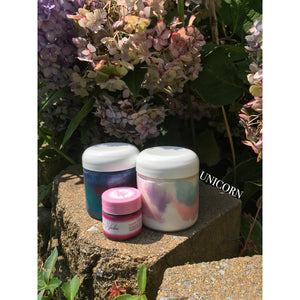 UNICORN
Sale price Price $32.00 Regular price $46.00
Our latest addition is the UNICORN collection.
consists of:
(1) 4oz Unicorn Shimmer Body Slushie
(1) 4oz Unicorn Shimmer Body Glaze
(1) .5oz Honey Unicorn Lip Slushie 
The smell is amazing, you just have to experience it for yourself. It smells like you have been dipped in all your dreams and sprinkled  with amazing shimmer. You'll step out looking like
 Shimmering Glow Goodness!
First wash in your shower as normal. 
Next, remove a small amount of the Unicorn Shimmer Body Slushie and begin to gently exfoliate your skin.
allow yourself a moment to enjoy the magical aroma as it is released in the shower. 
Rinse off. 
Towel Blot Dry, Blotting is the key here to maintain the moisture and shimmer  
Moisturize with Unicorn Shimmer Body Glaze and Glow Be Great!
When the Sun or light hits your skin you will look like you naturally create Shimmer & Glow!
Thats that Melanin Magic. Our new Unicorn Collection is truly Magical.